Be Genuine and Show Personality in the First Essay
1. We know you lead a busy life, full of activities, many of which are required of you. Tell us about something you do for the pleasure of it. (100 words or fewer)
Perhaps the best piece of advice we can give you about this prompt is to be genuine. Adcoms can tell right away if you are trying to tell them what they want to hear (or rather, what you think they want to hear). Nothing leaves a worse taste in an adcom's mouth than an applicant who thinks he or she can "game" the admissions office, so don't do anything of the sort.
Top applicants know that it's okay to write about an activity that isn't necessarily "impressive," so long as they can describe what it means to them. Indeed, no answer is "wrong," unless it is illegal, offensive, or morally questionable. Feel free to write about your bug collection or your interest in visiting national parks — activities that might not make it onto your extracurricular list but are perfect for this type of question.
In terms of strategy, you can opt for a straightforward description, or a short anecdote. The anecdote frequently is the more interesting strategy because it allows you to show off some writing skill (if executed correctly) in a way that the remaining prompts probably don't.
Be specific and Concise for 'Why this Major?' Question
2. Although you may not yet know what you want to major in, which department or program at MIT appeals to you and why? (100 words or fewer)
This prompt is basically a standard "Why this major?" essay. Since the length is just 100 words, you should be as specific as possible in your response to the prompt. The first component of the essay is simply stating or stipulating the major, department, or program of study, using one short sentence (either at the beginning or end of the essay). The remaining 80-90 words should be used to describe one specific reason for your desire to pursue that field, and you can cite something about the program at MIT.
Ideally, you shouldn't just list classes, but discuss a specific departmental research or broad academic focus that you wish to study, giving at least one intrinsic reason for why it appeals to you. For example, if you wanted to pursue chemical engineering at MIT, you could cite MIT's diversity of labs offered to undergraduates and then talk about your desire to be exposed to disparate styles in the course of your studies. To find out specific details about MIT's programs of study, you can read through their course descriptions at their college catalog, which is linked below.
Alternatively, you can focus on the major or academic program itself, and discuss your personal affinity for it. In this case, you should spend half of your available words on describing why you find the major appealing, while the remaining words should be used citing one or two extracurricular activities which gave you broad experience in the field (thereby establishing your qualifications for the major). For example, if you wanted to study physics, you could discuss why the universe fascinates you, and then refer to your experience at a physics summer camp as the inception of that interest.
Consider Which Archetype You Are for this Prompt
3. At MIT, we bring people together to better the lives of others. MIT students work to improve their communities in different ways, from tackling the world's biggest challenges to being a good friend. Describe one way in which you have contributed to your community, whether in your family, the classroom, your neighborhood, etc. (200-250 words)
For this prompt, unless you have never partaken in any kind of community service, the response should be relatively straightforward. As a candidate, you can generally be classified as one of three archetypes: someone with multiple service opportunities to choose between, someone with only one main service goal, or someone who has never done any community service.
If you are the first archetype and have several community service projects on your resume, you should aim to write honestly about the activity you were most passionate about! Think about which opportunity taught you the most, which you spent the most time on, or which you care about the most. An anecdote about your time in a club or a moment during the project could go a long way in showing the school why that particular part of your resume is so meaningful.
If you have only one service goal or club, this essay is pretty straightforward. Applicants who have concentrated their time towards one cause or one organization should easily be able to write convincingly about why they chose that specific type of community involvement. You spent a lot of time with one cause or club — why? What about that type of service mattered to you?
Lastly, if you are someone who has never gotten involved in service, you are going to have to be a little creative. Try to come up with responses that showcase your personality as collaborative and kind. This could be as simple as taking care of a sick sibling, giving extensive math help to a friend, or cutting the neighbor's grass when you cut your own. Don't phrase the essay in the context of community service; instead, prioritize simple acts of kindness.
Feel Free to be Creative about the 'World' You Choose
4. Describe the world you come from; for example, your family, clubs, school, community, city, or town. How has that world shaped your dreams and aspirations? (200-250 words)
In terms of the approach to this essay, you have a lot of leeway in the "world" you choose to base the essay on, mainly due to the word "community." As we have discussed for other schools, your definitions for "community" can be as disparate as your race or the online forum you use when discussing League of Legends.
The key element of this essay is the shaping of your dreams, whether that's a personalized one (that you want to achieve some sort of intrinsic goal such as accepting new members to any community), or a professional one (that you want to study biotechnology because of your good friend who had to get a prosthetic leg).
Describe How You Overcame an Academic Challenge
5. Tell us about the most significant challenge you've faced or something important that didn't go according to plan. How did you manage the situation? (200-250 words)
This essay prompt is difficult for many students who grapple with choosing the type of challenge that they should write about. Unfortunately, there are no easy answers in terms of what type of challenge you should address. Obviously, tone-deaf essays discussing why you had to overcome racial discrimination as a Caucasian are a no-go, but there are more subtle questions (for example, can getting a B in a class be a challenge?) that make this prompt tough.
Our best advice is to pick a time that you failed (academically or in extracurricular activities) and discuss the lessons you learned, even if you didn't overcome the failure per se. Personal failures can often be a slippery slope (planting a questioning seed in the minds of admissions counselors), so if you do choose a personal challenge or failure of some sort, make sure that it is from your freshman year or earlier, putting enough time between the present day and the event to extinguish any questions about your character that may arise.
With these tips, you should be well on your way to writing the perfect MIT Supplement. Get your essay reviewed by our expert team before submitting your application!
Best of luck from the CollegeVine team!
Cambridge, MA has more than just one powerhouse university. Not too far from Harvard is also Massachusetts Institute Technology, which is more commonly referred to as MIT. For those dreaming for a career science and engineering, MIT is bound to be on the top of the list. But with an acceptance rate of just 7.8% for the most recent Class of 2020, how can you one of the lucky few with the winning ticket? Take a look at the following essay intros from MIT students on AdmitSee:
Derpqwq
Class of 2020
If my life were a play, there would be two sets, two acts, and two sets of characters. Like many first-generation Americans, I was born in the US to immigrant parents who spoke a foreign language, cooked foreign foods, and lived a foreign lifestyle in a crime-ridden community on the "wrong side" of the SEPTA tracks. But, unlike my neighbors, I was shipped away. Keep reading.
TimTheBeaver
Class of 2019
Numerous elementary and middle students my age were looking forward for the school day to conclude with the final bell. I, however, did not represent the typical student as I dreaded the end of the school day. While my classmates welcomed the afternoon by playing outside and enjoying the day, I would arrive home only to aid my family in our restaurant. Read on.
Ekewokocha
Class of 2020
The blare of the buzzer reverberates throughout my living quarters at 05:00 every morning.
Today's uniform: faded red sweater and my favorite pair of knock-off vans. "Time to head out," but before I leave, I check to see if my guardian is awake to continue the morning procedure. At 06:01 exactly, I start my 2 hour and 14 minutes commute to school. View full profile.
Cookiemonster
Class of 2018
I recite ancient Chinese poems, but adore Jane Austen. I devour spicy chicken feet, but drool for ballpark franks. I dream in Chinese, but think in English. 10 years ago, my family moved to China from the US, and bridging these two cultures has become part of my identity. Every morning, I take the bus to an American school next to a fishing village in the outskirts of Shanghai. As I step off the bus, uniformed guards greet me with a bright-eyed "Goo-da morning!" To the school, they are local employees who ensure the safety of our community. But to me, they are optimistic students, motivated learners, and the highlight of my week. Keep reading.
Starnite
Class of 2019
There is a hefty blue book in my bookcase that is older than any other book in the house. Across its spine are emblazoned the words My First Encyclopedia. For others this book might have served as a passing interest or an occasional point of reference; for me, it was the quiet, unremarked, yet vastly monumental introduction into a life shaped by the tenets of science. Read full essay.
Applying to college?
View the app files and essays of accepted students.
LEARN MORE
Are you looking to apply to MIT? Make sure to search through profiles of students accepted to see essays, stats, and advice. See how they got in, and how you can too!
About The Author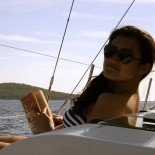 Frances Wong
Frances was born in Hong Kong and received her bachelor's degree from Georgetown University. She loves super sad drama television, cooking, and reading. Her favorite person on Earth isn't actually a member of the AdmitSee team - it's her dog Cooper.